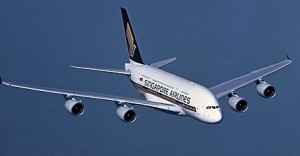 For bare to dage siden meddelte Singapore Airlines, at der ingen problemer var med deres A 380. Udtalelsen faldt ovenpå Qantas problemer med motoren på en Airbus 380, men i dag har piben fået en anden lyd.
Nu har Singapore Airlines bestemt at tre fly skal have udført yderligere check på deres Rolls Royce motorer, der alle er af samme type som den, der sad på Qantas' ulykkesfugl. Derfor har Singapore Airlines sendt flyene tilbage til Singapore uden passagerer.
Efter råd fra Rolls Royce udskifter Singapore Airlines motorerne på de tre maskiner for en sikkerheds skyld. Singapore Airlines råder over i alt 14 A380.
Qantas har fortsat grounded deres seks Airbus 380 til tidligst i morgen aften.