Rygterne har svirret hele dagen om store problemer i Spanair. Det spanske flyselskab, som SAS har en ejerandel af, har været i forhandlinger med Qatar Airways, hvilket dog endte uden resultat. Qatar Airways har forladt forhandlingerne og derfor opgiver Spanair ævred og går konkurs.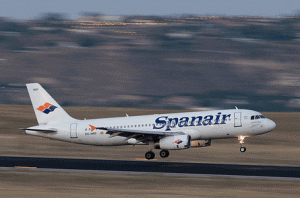 Der er ikke kommet nogen officiel melding om konkurs endnu, men Spanairs hjemmeside er væk, og rygterne går på, at Spanair indstiller operationen ved midnat her d. 27. januar 2011.
Konkurs koster SAS 1,8 millarder
Indtil videre er der ikke mange officielle oplysninger af finde, og kun nogle få artikler der kaster lidt lys over sagen, bl.a. denne Reuters artikel: Qatar Airways leaves Spanair talks. Nedenstående pressemeddelelse fra SAS er den eneste officielle bekræftelse af konkursen.
SAS var med til at starte Spanair i 1986, og ejede på et tidspunkt 100% af det spanske flyselskab. I 2009 solgte SAS  en stor del af aktierne i Spanair, men beholdt 10,9% og har stadig betydelige forpligtelser i Spanair, der koster SAS ca. 1,8 mio. svenske kroner.
Spanair fløj fra København til Madrid, Barcelona og Malaga. Spanair har tidligere også fløjet fra Købenahavn til Mallorca i højsæsonen.
Følgende pressemeddelelse er lige tikket ind her kl. 21:45

SAS writes down SEK 1.7 billion – liquidity effect limited to MSEK 200-300

The SAS Group has continuously informed that following the divestment of most of its ownership in Spanair early 2009, the SAS Group has had a remaining exposure of approximately SEK 1.8 billion.

Spanair's Board of Directors has today decided to apply for bankruptcy. Due to the situation in Spanair, SAS has decided to make a write down of the outstanding debt and receivables on Spanair of approximately MEUR 165, as well as reserve MEUR 28 in guarantees and costs due to the bankruptcy.

SAS ownership in Spanair is currently 10,9%, but the value of these shares has already been written down and are booked at 0 value. The write down will affect the SAS Group's result as a non-recurring item and equity negatively by SEK 1.7 billion in total. As informed earlier, the effect on the SAS Group's liquid assets is estimated to be limited to MSEK 200-300.