18 millioner flypassagerer fra 160 lande har talt, og de peger på Cathay Pacifics Business Class som luftens absolut bedste.
"Det kommer ovenpå at vi har indført en ny Business Class, der sætter helt nye standarder for hvor behageligt det kan være at opholde sig i 10 kilometers højde", forklarer Allan Petersen, Sales Manager Scandinavia, Finland & the Baltics for Cathay Pacific.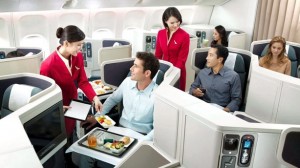 Cathay Pacifics nye Business Class er indrettet i en slags omvendt sildeben, så alle passagerer har en gangplads. Vinduespladserne har ikke nogen sidemand og er perfekt hvis du rejser alene, mens dobbeltsæderne i midten af kabinen er perfekte til to, der rejser sammen.
Stolen kan trylles om til en af luftens længste senge på over to meter – der er halt flad i en vinkel på 180 grader – alle sæder har egen 15, 4 tommer fladskærm som rummer over 1000 timers underholdning, og vigtigt for de som gerne vil arbejde ombord, så har alle sæder et strømstik, så computeren ikke løber tør på flyveturen.
Cathay Pacific vinder prisen for bedste Business Class kabine foran Qatar Airways, Oman Air, Singapore Airlines og Etihad Airways.
Læs anmeldelsen af Cathay Pacifics Business Class kabine, for selvom indretningen af kabinen er forandret, så er service elementerne stadig de samme.